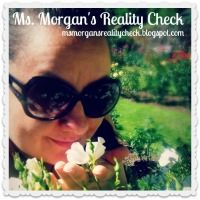 As you all know, I've started online classes toward getting certified as a medical transcriptionist/editor. (If you didn't know, you should
read this
.) It's going to take me a little while to figure out a good balance between studying, blogging, and living. In the meantime, I'd love to introduce you to one of my bloggy friends, Ms. Morgan! I started out reading her blog because she's currently living in Portland, Oregon (my hometown). I found her blog right about the time when I was being hit with some pretty severe homesickness. Her blog was a way to cope with my Portland withdrawals, and in the process I got to know a really great person. Without further ado, I give you Ms. Morgan herself:
[1]
Your name, name of blog and when you first started the blogging:
Ms. Morgan (I started using this moniker because of all the emails I'd get for "Mr. Morgan". My current blog is Ms. Morgan's Reality Check (started earlier this year) but I've been blogging since 2008.
[2]
How/why did you first start blogging?
I first started blogging a few days after my 27th birthday; (at the time) being only three years away from 30 I was starting to question who I was as a person, if I was where I should be in life and needing a new way to express my thoughts. It started as "Surviving 20-Something" and over time has morphed into my own Reality Check.
[3]
How would you describe your blog?
It's a little bit of everything. Sometimes fashion focused, other times a foodies delight and then more often than not a personal journal as I explore being almost 30 and still single (in the not married sense, I do have a special someone in my life now).
[4]
What do you do when you're not blogging?
I'm assuming you mean other than Facebook and Pinterest? Haha. I'm an Assistant Director of Student Life at a College in the PNW so I work a lot. On those rare occasions of "free time" I try to spend long distance quality time with my beau, lots of family get togethers and for "me time" I (attempt) photography.
[5]
Describe your ideal (blog) reader.
Someone who either has been through the life lessons I'm exploring (or is in the process too). Someone who enjoys a good giggle (I do what I can) and loves sharing ideas.
[6]
What are your favorite types of blogs to read?
Ones that have a creative writer, funny ones, and food blogs are probably the biggest.
[7]
What is your favorite post (of your own)? Why?
Of my photography/travel pieces it would have to be my Workation
(when I went to Florida for a conference and managed to find time for so many fun things - like feeding a giraffe, seeing the Atlantic ocean, etc) but if you're looking for a sample of my humor and love life check out "Dating the Last 4 Months"
just remember too that the BF in this post isn't the current BF.


[8] Have you ever thought about blogging about a different topic? If so, what? If not, why not?
For a while I had a separate food blog (Epicurean Enthusiast) but I realized I was neglecting it too much so merged most of those blogs into Reality Check's and now do my best to not neglect the single blog I have.



[9] Anything else you want to tell my readers, about yourself, your blog, or about the world?
I'm open for guest blogs, guest giveaways, and love advice. Haha.
Thanks for visiting, Ms. Morgan! If you'd like to see my answers to the above questions click here!