If you're looking for a post with lots of awesome pictures and beer recommendations, then you're in the wrong place.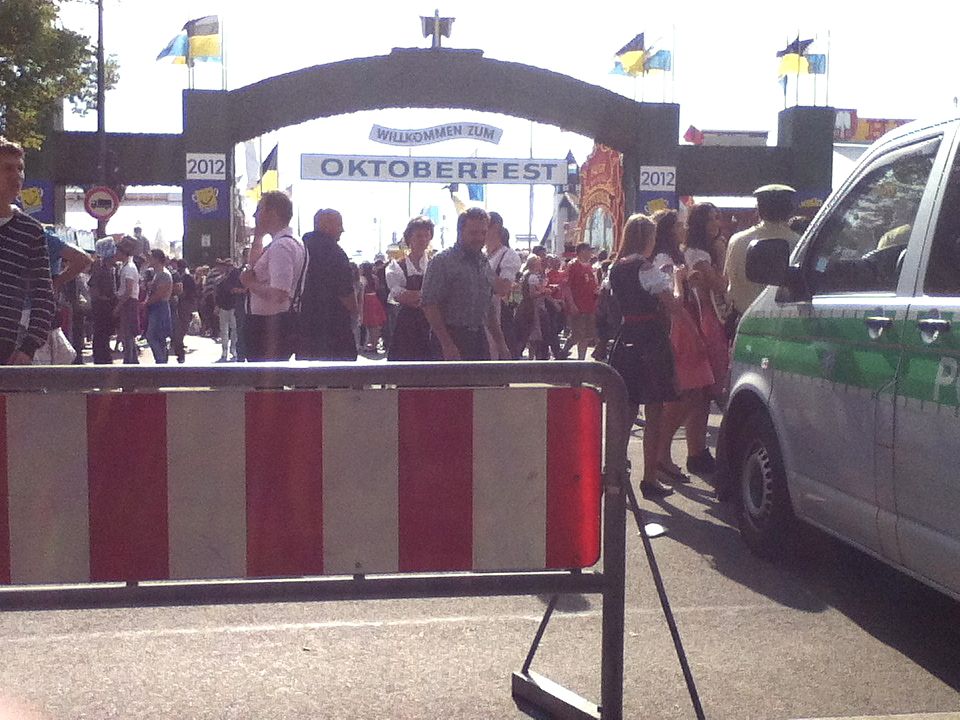 Entrace to the fest, as soon as you pass through the arch it's a mad house.
We got to our friends' house in Germany at 2:30ish in the morning. So we were definitely the late birds who didn't get to the fest until lunchtime. By then there were super long lines to get into the tents and no one in our group was really in the mood for that. Instead we had a family friendly day wandering around the fest and trying not to get trampled by the crowds.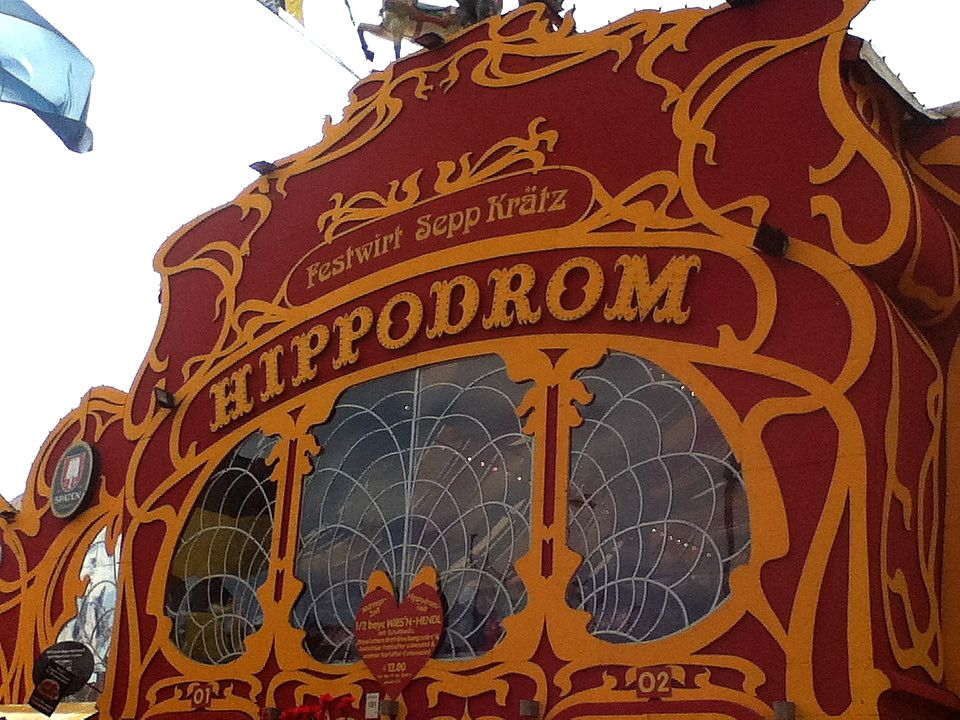 One of many beer "tents". Not so much a tent as a small building.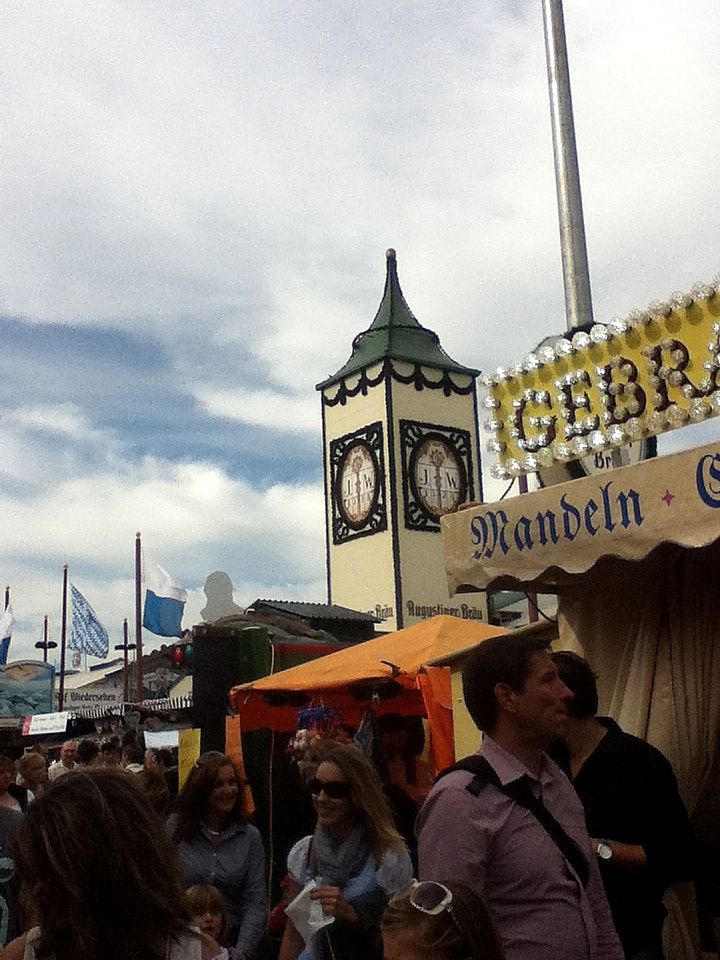 This "tent" had a tower and everything!
Perfect day. Not too hot, not too cold.
Reminder: I'm short. Really short. I'm 5'0" and Will is 6'0"...leaning toward 6'1". So you would think he would take our iTouch and get great pictures right? No. So I got a lot of terrible pictures.
I was trying to take a picture of the performers outside this tent...but of course these ladies walked right in.
After we wore ourselves out at the fest, we headed over to Hard Rock Cafe for dinner. Us homesick Americans wanted to eat some American food. (Don't worry, we ate brats and kraut and pommes frites at the fest. Interesting fact: Their idea of ketchup is different than ours. Same general idea, but odd taste if you're expecting our version.)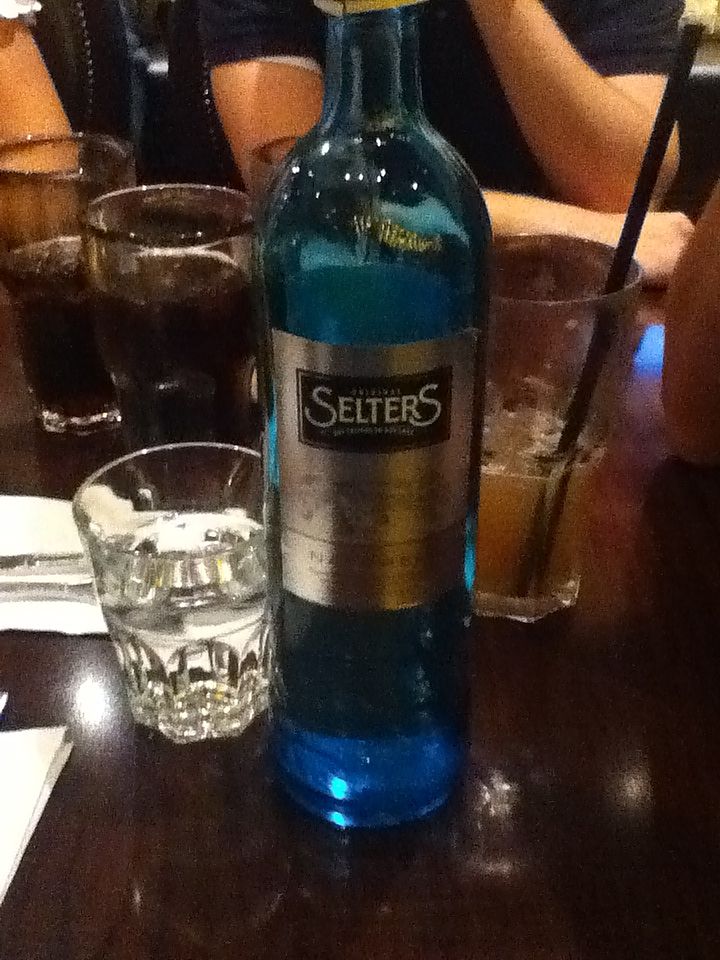 My pretty water bottle and Will's Long Island Ice Tea
Our tips for future Oktoberfest goers:
--When they say get to a tent early, they mean like before 9 in the morning. If not, reserve your table.
--Bring lots of cash. None of the booths take card. I'm not sure about the tents since we didn't go in one. And everything is ridiculously expensive of course. 2.50 euros for 3 postcards. WHAT!?
--Dress up! Every other person is decked out in their cute traditional German outfits. I wish I had a dress and braids.
--Check the Toys R Us parking garage. Even though we got there late, but we still got a spot just a couple blocks away from the main entrance. There were plenty spaces still open too.
--Make sure everyone has cell phones. It's super easy to lose each other in the crowds.
--We overheard a group of guys who said they could skip the line at the Hofbrauhaus tent for 20 euros each. I'm not sure if it was a real thing or if they were bribing a gatekeeper. We didn't see if they actually got in or not. But it's something worth investigating if you're impatient and desperate to get in.
--I
can
give you this, we like Spaten. Our landlord brought over a couple bottles with a dinner plate last year and it was pretty delicious and packed a nice buzz at the bottom.