Cruise Stop #2: Mykonos, Greece
Mykonos was pretty...from afar. We didn't go to the other side of the island where I hear all the beautiful beaches are. I wasn't feeling well so we stuck close to town and the boat. The town was pretty to look at while riding the tender from the ship to the shore. But once we got off, there was a lot of trash and cat/dog poop lying around. Not exactly welcoming, but the buildings with their pretty doors and windows helped offset the mess.
The island can be subjected to some fierce winds, so their famous (now defunct) windmills are a cool sight to see. I wish I could show you our pictures from our day. But somehow through user error (mine) and my computer's umpteenth attempt to annoy me to death, all our pictures from the day were lost. I was downloading all our pictures from our cameras everyday to my laptop to keep our cards free. I also backed them up onto a thumb drive. Even with all my carefulness, the pictures are gone.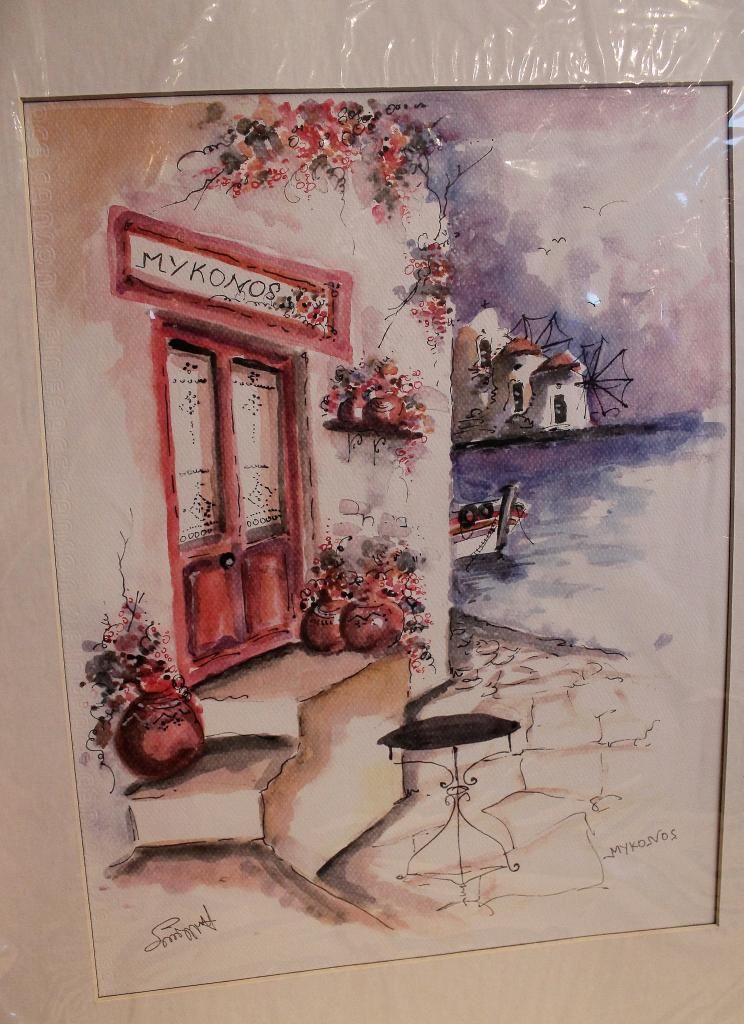 The art we bought. It's at a weird angle to reduce the glare from the plastic around it.
We got our first taste of Greek food in Mykonos. I got a plate of Greek meatballs, Mama got
baklava
and Will got a Greek beer. Mama and I enjoyed the meatballs. Will discovered he's not a fan of Greek spices. Mama's baklava was delicious and Will's beer wasn't bad.
There were tons of stray cats hanging out around town. I bonded with as many as I could. In fact, I got left at the windmills because Will and Mama didn't realize I had stopped to pet a little cutie. If I could, I would have brought her home.
Thank goodness for souvenirs to help remind us of our day.
Got this small platter for a deal since they were clearing out their store for the end of the high tourist season.