It was one of Will's rare days off that he didn't sleep through or have errands to run so we got to spend a nice long uninterrupted couple hours talking. He told me stories from over there and I kept him updated on what's going on around here. He's been working out everyday with his buddy and it's starting to really show. Of course this means lots of corny poses and his shirt being pulled off to show off his new muscles. I'm not a huge fan of muscle-y guys, but my man is making the sexy transition from scrawny to buff. I have the biggest crush on my husband!!! I spent my afternoon laughing and flirting with him over Skype. I hate this deployment, but it's not breaking us as a couple!
Also, my landlord had his work buddies over for a bbq dinner in our little party room. I tried to stay out of their way since it looked like it was a guys' night. But a couple of them spoke decent English and tried their best to keep me involved in the conversation. While they cooked I grabbed a beach towel and sat on the front steps and hung out.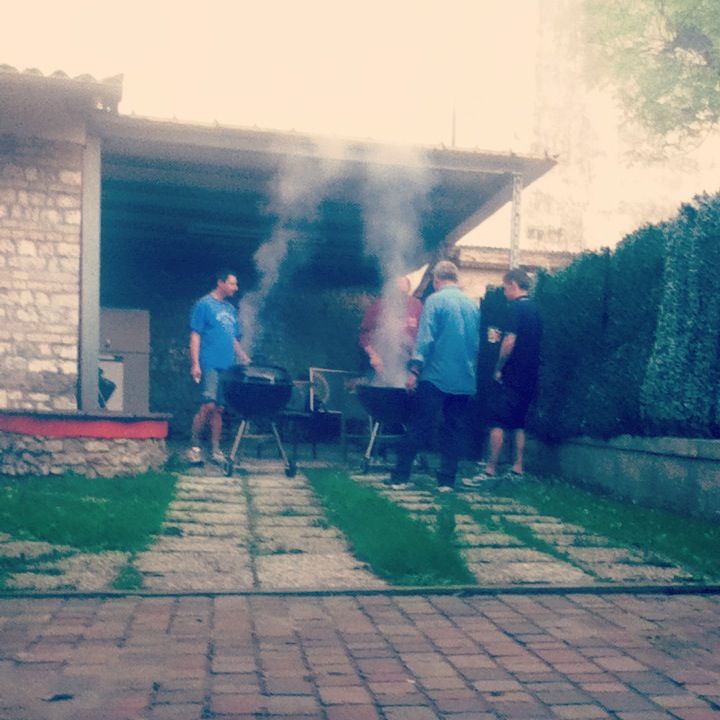 It was delicious! They made chicken, ribs, sausages, and polenta. I was S.T.U.F.F.E.D. by the end of the meal. I was proud of how much I ate...but of course all the guys teased me for being so little and not eating as much as they did. I have no idea where they pulled it out of, but a delicious cake appeared out of nowhere. I
never
turn down dessert. I asked what it was, but no one could name it in English. I thought it was a cheesecake at first, but when it was cut I realized it was some sort of cake. The best way I can describe it is a lemon cake with almost like a custard-y lemon pudding deliciousness in the center. It was very light and very delicious. After that someone pulled out a carton of lemon sgroppino. It's a palate cleanser/end of the meal drink. It's a sweet creamy drink with alcohol. But since this one was from a carton it was much weaker than the version I'm used to. They poured some prosecco into it to give a kick, but it was still too sweet for my taste (but I still drank all of it of course). By this point my multiple glasses of wine + sgroppino + glass of beer had me drunk and full so I bid them goodnight while they went next door to the bar for coffee and more drinks.
I say it every time and I mean it every time...my landlord is amazing. And I miss my husband.