A big pet peeve of mine is looking at gorgeous travel pictures with no explanation of what I'm looking at. Most times there will be a general caption of "Italy or Rome". How am I supposed to add to my travel bucket list if you don't give me details?
I try to carry a notebook to take notes on the places we visit, but I'm actually really bad at remembering to actually write anything down. So I have a few tricks to remember what we saw and where we went.
1) I grab free information pamphlets from everywhere I go. Most restaurants, stores, museums, and even church's have a business card or info sheet. Sometimes they're sitting out for you to take, but sometimes you have to ask. One time I asked a cashier for a business card at this awesome used bookstore in Venice and, after handing me a card, he pointed me in the direction of their back room of really cool books and a hidden outdoor sitting area.
All the ticket stubs, pamphlets, and business cards from Mama's visit
2) Maps. Tourist offices give them away for free. Mark your stops on the map to jog your memory later.
3) Take pictures of signs. After I'm done taking my tourist pictures, I take pictures of the plaques and signs nearby.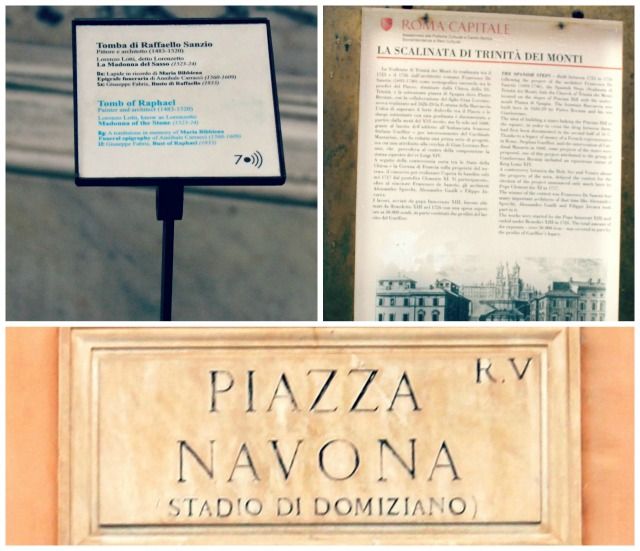 Pictures of signs and plaques from our Rome trip
4) Notes on Facebook. I don't always write my blog posts right away, but I almost always post pictures on Facebook that day or soon after. I put short descriptions on every picture so when it comes time to blog I have an easy reference for later.
Do you have any good tips for remembering your travels? More importantly, where's your favorite vacation spot? I'm always adding to my travel bucket list.