I love the way my landlord says Croatia. It's sounds like crow-ah-tzee-ah. And of course roll the "r". Slovenian's pronounce it that way too. I think it sounds fancy and so much better than the way Americans say it.
ANYWAY...when my friends picked me up from the airport, they invited me to come along with them to Zagreb on the trip they had been planning. Will and I had been to Zagreb before and I really enjoyed it so I made the spontaneous decision to join them. Why not? We went with another couple, but no one made me feel awkward about it. It was such a great relaxing time and it totally distracted me from the fact that I was horribly homesick.
We stayed at
Hotel Dubrovnik
right next to Ban Jelačić Square. My friends all stayed on the opposite part of the hotel from me. I'm not sure if that's where the double rooms are, but I had a single overlooking the square so I scored! The hotel staff weren't very friendly or helpful, but the price was reasonable and the hotel was clean and you really couldn't beat the location.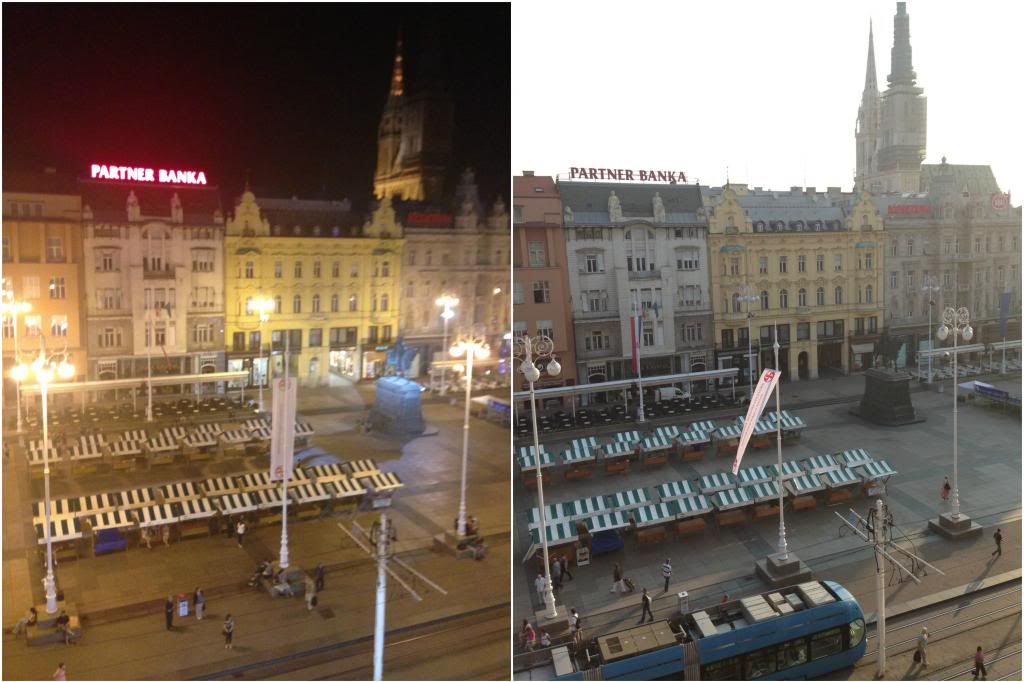 We did some sightseeing and shopping. I didn't go out, but my friends did some gambling and dancing.

The view of Cathedral of the Assumption from Old Town
(click the image to enlarge)
While checking out the stalls in the square, we ran into soldiers (I think) marching out after a demonstration
While shopping, we ran across this:
It was so random! They were under a picture and a plaque for some guy, so maybe it was a part of that...or maybe someone just left them there? I don't know. We were so intrigued by this random shovel and broom.
I didn't take very many pictures since I'd seen all the same sights before. This trip was more about spending time with my friends rather than travel and sightseeing. It was a great weekend away and a great chance to catch up with them.
---