The BCS Championship game aired here at 0230 here Tuesday morning. I felt
so
bad for Will when he found out he went to work at 1700 Monday night. He was stressing about it all weekend, poor guy. He has been a life long fan of Florida State University. Really truly honestly...I didn't even know about FSU until I met him. But we've been following them (and the Ducks) closely ever since we got married.
I didn't realize how much I have come to care about his team. Especially after they outed us at the #2 spot back in October...there was a lot of hate thrown his way for his team. (You remember that
angry post
I wrote) But it turns out, he has me fully converted into a fan. Not above my beloved Oregon team though.
Thankfully Will was able to get home in time to see the end of the first quarter. And he was disgusted. At halftime he was ready to walk away. He just didn't want to see his team lose like that. But we stuck with them and we were handsomely rewarded. I wish I had videos to see our reactions with that return.
I've never heard Will react like that to any game we've ever watched together. The whole fourth quarter he was pacing and stressing out so hard. I laugh, but I was the same way. My hands were shaking and I felt like I was going to throw up.
And then this happened...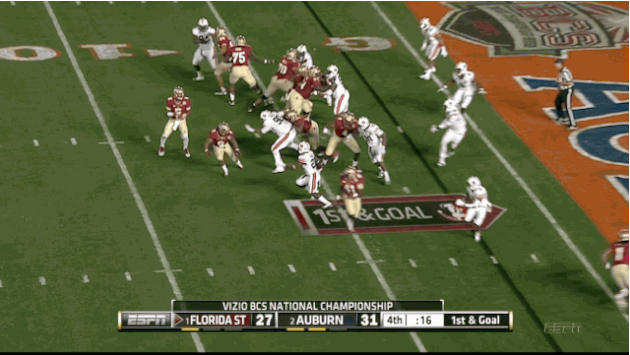 AND IT WAS ALL OVER!!! Not quite...we still held our breaths and screamed at the screen until time expired.
We were exhausted and had stayed up almost 24 hours, but we were so amped up after the game we couldn't sleep. Will is still running around chanting and cheering. As he should.
Regardless of who won that game, it was a good one. Both teams put up a really fun game to watch.