From my past posts, it may come off like I've been a football fan my entire life. Couldn't be farther from the truth. Ten years ago, I could not care less about the game.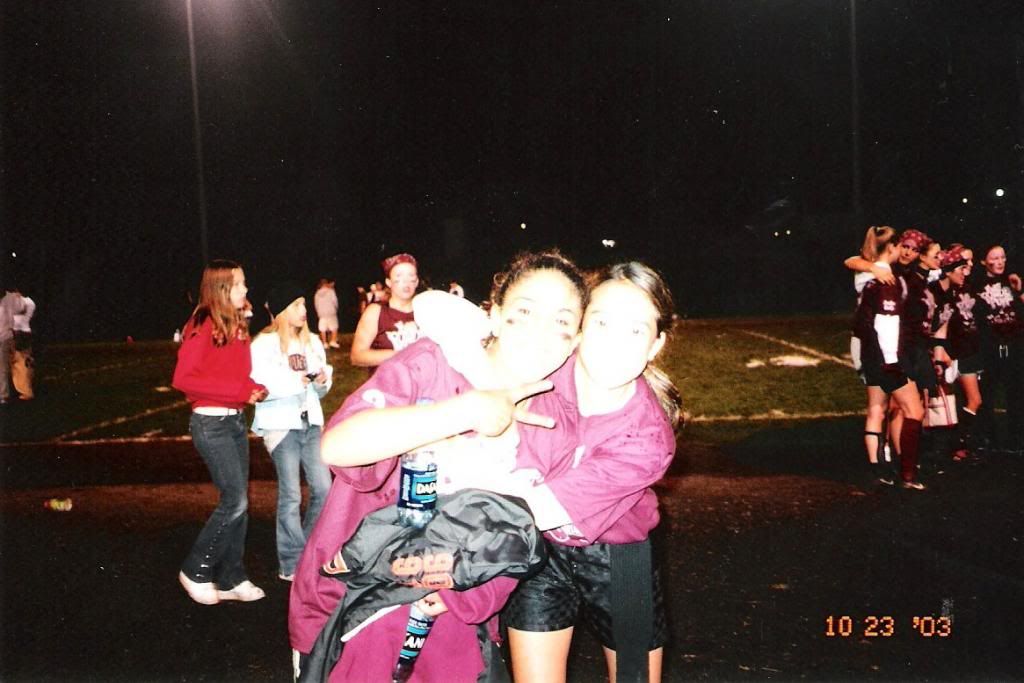 Terrible picture, but me and a friend after we won the game.
Senior year in high school, I played in Juniors vs Seniors Powder Puff game. The senior football players taught us everything we needed to know. Practices were long and intense. Everyone took it really seriously. That's how I learned the basic rules of the game. Trial by fire. I had a blast playing in that game and the rest of high school football games that year were so much more fun to go to because I kind of understood what was going on.
But it wasn't until my sophomore year in university that I learned to love the game and the Seahawks. It all started with a cute boy on the first floor of my dorm. He is a die hard Seahawks fan. Like born and raised on the Seahawks. Like paints his face for the games. He's mild mannered and quiet...until the game comes on. It's a total transformation. It's amazing. That year he had season tickets with his family so he was at all the home games, but I sat with him in his room for the away games. He patiently explained all the rules and penalties to me as they popped up. None of my friends before or since then has ever taken the time to teach me like that.
[I wish I had a picture of us, but my computer keeled over at the end of my sophomore year and I lost ALL my pictures]
As you all know, Will deployed last year. I needed a distraction and the Seahawks were perfect for that. I read articles during the off season and got amped on all the pre-season hype surrounding them. I followed some of the players' Twitters, read the articles they posted, and followed the links they put up. I looked into their charities and their back stories. I watched their locker room videos, which are hilarious and good for hours of entertainment. I was heavily invested in my team by the time the season started. Normally I just watch the games and that's it. But now I watch the games, the press conferences, and the interviews. You can imagine the binge reading/watching I've been doing since the huge Super Bowl win.
So that's the progression of my love for the Seahawks. It's been so much fun following them and I can't wait until next season! I think it's something like 262 days left until preseason.
PS - My husband can now recognize more players on my team than his. Success!